Using Your Database to Make Labels
---

Once your database has been created and the data entered, you can use your database to make labels.
With your database open, click on Layout in the menu bar and drag to New Layout. Select Labels.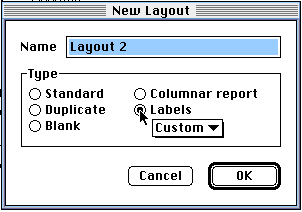 Click on the Custom down arrow and scroll down and identify the correct Avery Label #.
In the highlighted area, type in a name for these labels. Then click on OK.
Before printing, insert self-adhesive labels into the printer. Click on File and drag to Print.
---
Back to the Technology Resource Page
Joanne Goodwin, Technology Resource Teacher