Setting up a Class Information Database
---
Open ClarisWorks and select Database.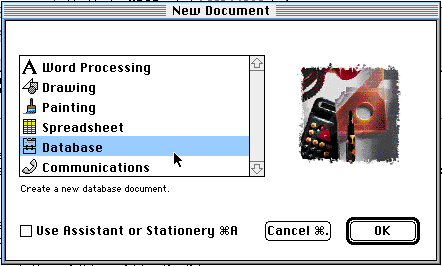 At the next screen you will type in the fields you want in your database. Some examples are given below.
For a class information database, here are some suggestions:

First Name
Last Name
Parents Formal (Mr. and Mrs. Smith)
Parents Casual (John and Mary)
Address
Phone (H)
Phone (W)
E-mail
Special Info
Child's Poss. (This stands for the possessive form of the child's name. We will use this later in our mail merge.)
First and Last
Bus Number
Birth date
she/he
He/She
him/her
his/her

Type in the title for the first field and press return. After typing in all the fields, click the Done button in the lower-right corner.
The next screen that you see will show you the fields you have created.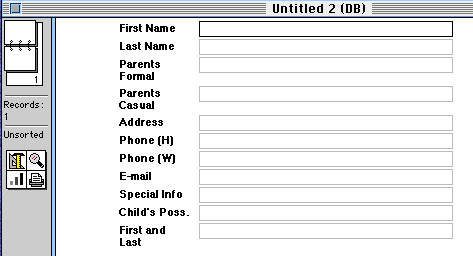 The next step is the data entry.

NOTE: Data entry means you are going to fill in the blanks you just created. To move from one blank to another, just hit the Tab key or click inside the blank on which you want to work.
NOTE: You can change the amount of space for a field by going to Layout in the menu bar and dragging down to layout. Move the "BODY" line down and arrange the field titles and boxes by clicking on what you want to move.

After completing the first set of information, go to Save As from the File menu to name and save your database.
Next you will need a new record. Hold down the Apple-Key and press "r" and a new record will appear.
It is a good habit to Save after entering each new record.
---
Joanne Goodwin, Technology Resource Teacher
Back to the Tech Resource Page