Creating a Class List Using a Spreadsheet
---
Open ClarisWorks. At the startup screen, choose Spreadsheet. Press return, or click OK.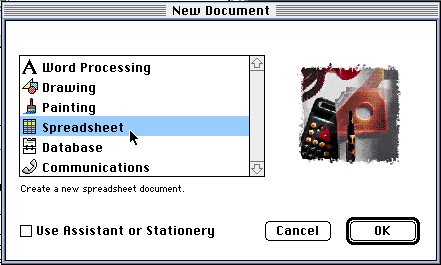 You will then see a page full of lines, letters, and numbers. Then menu bar choices look a little different, too.
Click on View in the menu bar and drag to Page View. (This will keep your document the size of the page on which you'll be printing it.)
Next, click in the cell (that's what the boxes are called in spreadsheets) located at A1. It should become highlighted.
Click on Format in the menu bar and drag to Column Width. A box pops up with a space for you to type in a column width. Type in 150 and press return. The column automatically extends to a width large enough to accommate even a long name.
Cell number A1 should still be highlighted. Type the word Name. Press return and your typing appears in the cell. You'll notice the next cell down is now highlighted.
Now enter the names of all the students in your class. After typing each name, press return.
Click on Options in the menu bar and drag to Display. Choose Cell grid and Solid Lines, and make sure the other boxes are empty. Click OK.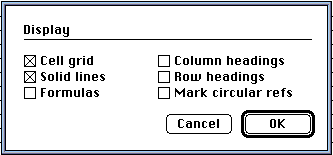 Before going any further, choose Save and name the spreadsheet Blank Class list. Be sure to click the Stationary icon in the bottom-right corner of the window. Follow the instructions as they appear on the screen.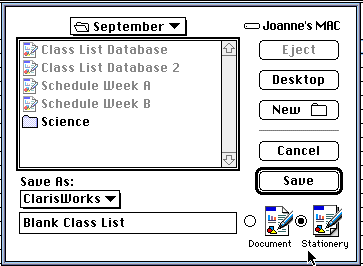 Now you can adapt this spreadsheet for a specific use. Go to the Format menu and choose Insert Header. A header appears at the top of your spreadsheet and cannot be altered by any information you put in the spreadsheet itself.
Name your checklist. You can choose to change the font, size and style.
Now click back on the actual spreadsheet in the cell just to the right of the word Name.
You can work across this row to put in dates, or subjects, etc. You are now ready to print.
---
Joanne Goodwin, Technology Resource Teacher
Back to The Technology Resource Page