Using ClarisWorks
The Spreadsheet Tool and Make Chart
---
Here is a simple, but effective way to have children collect, organize and record data. As a final product they can make a bar, line, or pie graph.
Open ClarisWorks.
Choose Word Processing.

Under View, choose Show Tools.
Click on the cross tool. This is the spreadsheet tool.

Move your cursor over to your word processing document and you will notice that the cursor changes to the spreadsheet tool. When you click and drag diagonally you will make a spreadsheet to the size you choose. You can adjust the size at any time by clicking on the cursor tool (the arrow), then clicking on the spreadsheet. It will get handles and you can make it smaller or larger or delete it.

Now add the data. To add text or numbers to a cell in the spreadsheet, click in that cell. Type in the information. Your typing will appear in the text window under the menu bar. When you hit return it will appear in the cell.

After entering your data, highlight the information you want shown on your graph. Then go to Options in the menu bar and drag down to Make Chart. Choose the type of graph you want to make.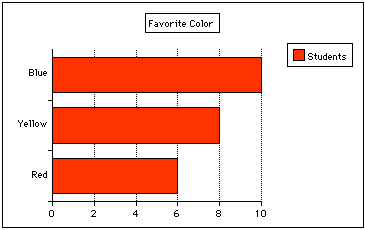 It's that easy to make a graph! Have fun!
Spreadsheets can also be used for making Data Retrieval Charts. You can adjust the size of the cells -width and height. See lesson on Using Spreadsheets for Data Retrieval Charts.
---
Joanne Goodwin, Technology Resource Teacher

Back to The Technology Resource Page